---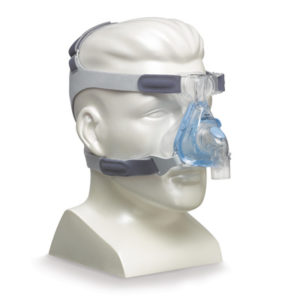 EasyLife
FREE SHIPPING TO THE UK. FLAT RATE CHARGE TO THE EU
Prior to shipping your device we will require confirmation of your diagnosis of OSA
Please email your Sleep Study result to us at shop@londonsleepcentre.com
With Auto Seal technology, EasyLife practically fits itself!
Patented Auto Seal technology
EasyLife's innovative, lightweight design features a unique dual-cushion construction – the inner cushion creates an instant, self-adjusting seal, while the outer cushion provides comfortable support by resting lightly against the face.
The EasyLife nasal mask nearly eliminates the need for manual mask adjustments – the only manual steps necessary are intuitive headgear adjustments, making fitting as easy as possible.
The forehead pad also adjusts automatically – eliminating a traditional mask fitting step – and requires minimal headgear force.
Angled exhalation micro ports make operation quieter and redirects air away from the bed partner.
EasyLife only consists of four parts for easy maintenance:
Headgear
Mask frame
Inner seal cushion
Outer support cushion.
EasyLife now features the following enhancements…
The availability of a Petite size – this new size complements the existing 4 sizes (S, M, MW, and L) with a new cushion and set frame, ideal if you require a smaller size and lower profile design.
New headgear – upgraded with inlaid fitting tabs, side straps that converge to a single, soft back panel and a top crown strap for added stability.
Headgear clips – now included with each mask in the mask bag; these clips can be optionally mounted on the headgear making it easier to remove the mask and keep the same fit night after night.
For more information about EasyLife, please click here.
When choosing a new mask, customers should follow sizing and fitting instructions carefully and discuss their suitability for a particular mask with their medical professional.
Prior to Ordering please ensure that you have measured your mask size correctly
Please view this tutorial prior to ordering.
NOTE: For proper mask sizing, print page at 100% scale.
Once opened from the packaging, Masks cannot be exchanged or Refunded.
This does not affect your statutory rights