---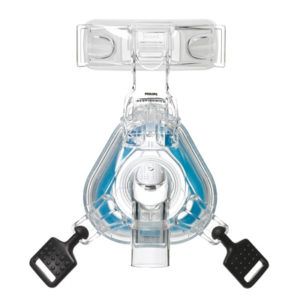 ComfortGel Blue
FREE SHIPPING TO THE UK. FLAT RATE CHARGE TO THE EU
Prior to shipping your device we will require confirmation of your diagnosis of OSA
Please email your Sleep Study result to us at shop@londonsleepcentre.com
Next generation comfort and technology, delivering everything you expect and more.
We've incorporated an improved forehead pad designed to help reduce pressure points, and developed a lower profile exhalation port with an integrated swivel that quietly directs air flow up and away from a bed partner.
These enhancements, plus our new gel formulation, have all been designed with an enhanced patient experience in mind.
Premium forehead pad improves comfort and fit.
One-size-fits-most premium headgear with EZ Peel tabs adjusts easily in four places for a secure, custom fit.
Silicone Comfort Flap improves seal and can be removed for easy cleaning.
StabilitySelector raises and lowers for proper mask angle, seal, and fit.
Angled exhalation micro ports assure quiet operation and redirect air away from a bed partner.
New generation gel technology cushion is soft and conforms to patient's face for added comfort.
Two 360º swivels allow tubing to move more freely.
Ball-and-socket headgear attachments enable free movement and easy mask removal.
And, using ComfortGel Blue with Philips Respironics System One Resistance Control will always ensure optimum PAP therapy and therapy comfort.
For more information about ComfortGel Blue, please click here.
Please note: ComfortGel Blue is an enhanced and direct replacement for the ComfortGel nasal mask. Mask sizes remain the same.
When choosing a new mask, customers should follow sizing and fitting instructions carefully and discuss their suitability for a particular mask with their medical professional.
Prior to Ordering please ensure that you have measured your mask size correctly
Please view this tutorial prior to ordering.
NOTE: For proper mask sizing, print page at 100% scale.
Once opened from the packaging, Masks cannot be exchanged or Refunded.
This does not affect your statutory rights